Live updates: Russia's war in Ukraine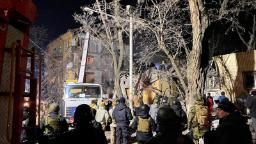 Russia preparing for The "maximum escalation" of the war in UkraineThis could be possible in the next few weeks. According to top Ukrainian national security officials
"These will determine the months of the war," Oleksiy Danilov, secretary general of Ukraine's National Security and Defense Council, told Sky News in an interview on Tuesday.
"I realize that the big fight is yet to come. And it will happen this year. Within two to three months," he said.
"Russia is preparing for the highest level. It's gathering everything that's possible. Do drills and drills. When it comes to attacking from different directions at the moment, I can say that we will not exclude any situation. in the next couple of weeks."
Ukrainian authorities have warned for some time of a new Russian invasion. and asked for more powerful weapons from the Western Allies to counter the threat.
According to Danilov A Ukrainian military spokesman said on Wednesday there were signs that Russia was preparing a new offensive in southern Ukraine.
"Not just on land. But also at sea and in the air," said Natalia Humenik, head of the Coordination Center for Defense and Security Cooperation of the Armed Forces of Southern Ukraine on national television.
Ukrainian intelligence noticed changes in the activities of the Russian Navy in the Black Sea. she added
"It rises and falls rapidly. and missile carriers moving around," she said.
meanwhile The Belarusian Defense Ministry on Tuesday said it would continue another week of joint military exercises with Russia.
"During the week Military representatives from both countries will practice joint military planning based on their experience in recent years in armed conflict," the ministry said in a statement.
Read more here.