Live updates: Russia's war in Ukraine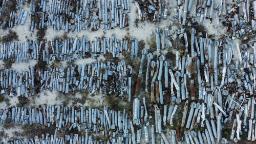 Challenging weather is adding strain to Ukraine's power system. said the country's energy authority.
It comes after relentless Russian attacks destroyed the country's electricity grid late last year.
"Electricity consumption in Ukraine is increasing due to low temperatures and intensified by strong winds in most parts of the country," Ukrenergo said Tuesday.
Supply limits in many regions have been "exceeded", so emergency shutdowns have occurred, the company said.
gusts of wind make "Distribution system operator damaged" and repair is in progress. the company added
Some context: Moscow has target over and over again Ukraine's energy infrastructure leaves many residents without access to heat and power.
Amnesty International has previously said Russia's attack on critical systems was "illegal" and considered a "war crime".
"It is illegal for Russia to target Ukraine's civilian infrastructure. Civilian morale is not a legitimate goal. And these attacks for the sole purpose of intimidating civilians are war crimes," said Marie Strutters, Amnesty International's Eastern Europe director and director. Central Asia said in a statement in October.
"All those responsible for ordering and carrying out these criminal attacks must be heard. As Russia Increases Efforts To Intimidate Civilians In Ukraine The international community must urgently respond and condemn these heinous attacks."